Mehsiah
Faithful
Join Date:

3/25/2013

Posts:

145

Member Details
So I'm pretty pumped about this Expac and can't wait til it comes out. Hopefully there will be a Collectors Edition along with a cool pair of Death Wings to go along with it. One thing that caught my eye and not one person has commented on so far is this: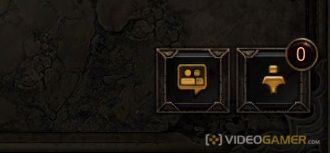 So whats that first button there? Hmmmm. We all know the Right one is for our friends list, but what about the left? I haven't seen anyone mention anything on this topic so figured I'd shed light on it. Could it be new and improved chat? A place for people to socialize better then we can now? Maybe even a "lobby"? Hopefully we can get some answers about it. There is still a LONGGG time til the Expac/Free Patch hits us and I'm sure alot more changes are coming/more info.
So what do you think it is?....
"Get busy living or get busy dieing.."

Twitch.tv: twitch.tv/mehsiah | Youtube/Twitter in the future.