Knucker
Sexton
Location:

Lansing

Join Date:

3/14/2011

Posts:

410

Member Details
Disclaimer: This is all based on the assumption that vault goes its entire 35 yards every time regardless of mouse position.
The point of reference I will use is the 2nd part of Force's Demon Hunter video at about 7:20:
http://youtu.be/9r4BGS2AyVk?t=7m10s
When going in a straight vertical line from the middle of the screen, you seem to almost reach the top of the screen with one vault, equaling 35 yards. This obviously is not equal to 35 yards in our world, otherwise you would be flipping a ridiculous amount of distance. I believe Blizzard made this change in order to make distances more measurable in game. Otherwise, the Demon Hunter's Bola shot would only have a spread of about 1 of our yards, when the spell reads 7 yards.
As an extreme example that shows us that the yardage is not equal to the real world, I took the barbarian's crimson runed leap attack Call of Arreat. Call of Arreat has a 45 yards
radius
. I decided to superimpose a circle that would encompass a massive range over a football field.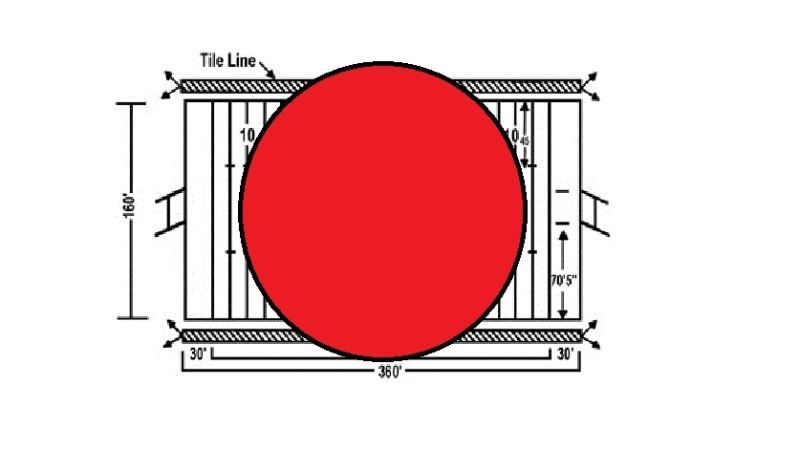 I think I've proved my point, now on to what this means for most players. Let's take some examples from each class. For these I will be assuming that the Vault ability goes exactly 2/3 the vertical length of the screen at a 1920x1080 resolution. With a 16:9 aspect ratio that means the yard ratio would be approximately 52.5x93.3.
For the Barbarian: I'll use Call of Arreat again. With a 45 yard radius, even in game that has a ridiculous range. If my calculations are correct, then you would be pulling things from off screen by about 18.75 yards on both vertical sides, and pulling everything on the horizontal length of your screen. This means you'll be pulling stuff from everywhere. I don't know if this will be toned down, or whether the rune is merely worded incorrectly, but either way it will be quite funny to see how this skill plays out.
For the Witch Doctor: With the skill Poison Cloud runed indigo, the spell has a 50 yard diameter. This means that the spell will cover almost the entire screen with caustic rain, having massive range and doing massive damage.
Now, I haven't really focused on the other 3 classes, but it seems like the wizard is the only class that will have larger yard spells. If anyone wants to look at the calculations of those spells, that would be awesome.
If anyone sees any error, or would like to make any changes to this please post in the comments below. I was just doing some quick calculations in my head for most of this stuff. I might be especially inaccurate on the basis of my assumptions, the Demon Hunter's Volley spell.
My place really was here. I was too foolish and stubborn to notice. But, what I truly hoped for then was here. Why do I always realize it When I've already lost it.