leland814
Curse Premium
Zealot
Location:

Rochester, NY

Join Date:

4/22/2012

Posts:

143

Btag:

Leland#1340

Class:

Barbarian

Member Details
http://us.battle.net/d3/en/calculator/barbarian#WhdkRj!dXe!YYZcYc
There are a ton of items out there that can add to your lightning skill damage, and with this build, despite the armory damage, it's more like 185k. The lightning proc from Fulminator is amazing, and hits all the time, especially when cleaving / Overpowering in a group. With this build, there are no rage spenders (aside from Battle Shout), so running Berserker Rage works very well. WIthout any item cooldown reduction, Earthquake is only 35 seconds and maintains your full rage.
Other items that would help this build (that I haven't been fortunate enough to get yet!):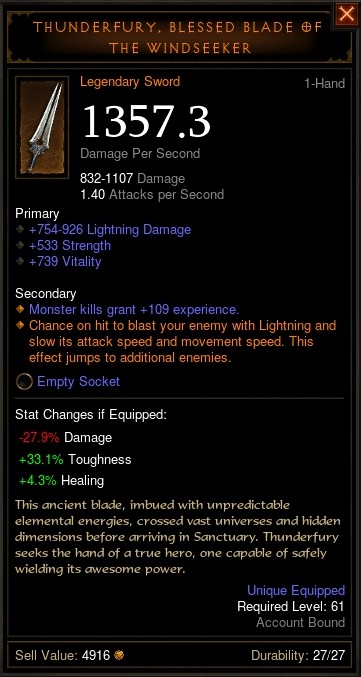 And of course all the multitudes of items that can roll +Lightning Skill damage.
**Edit: made the link a little more noticeable**