bz0r
Sexton
Join Date:

5/25/2010

Posts:

289

Member Details
ok, i did a quick search and i didnt see this so i decided to post it. (sorry if its been raised before)
Ok.. so everyones been saying that the last class will be a ranged class. Also, so many people want the last class to be a dark one like the necro... and im pretty sure blizzard has thought about this as well.. So the perfect solution!
The Dark Ranger!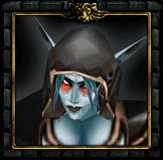 ok, now reasons being...
for those who have never played War3... Dark ranger was a hero class... it has spells like life siphoning and dark arrows which on the death of an enemy spawns a skeleton. Also, they look awesome and can easily fit into the diablo world.
So what do you guys think? I hope this hasnt been thought of.. coz i called it!
Concept art of a Dark ranger below.