Holyknight3000
Sexton
Join Date:

6/26/2008

Posts:

456

Member Details
Back in 2008 the week building up to the World Wide Invitational 2008 was a fun one. This website was originally Diablo3.com and then blizzard approached them for the name and then we got diablofans.com in the end. That helped people set the rumor mill on high alert. As the week progressed the new teasers each day adding a new clue as the ice slowly broke away revealed many things.
MMO Champions post on the teasers: WWI Schedule and Live Stream
Each day the community speculated over what they meant. I remember seeing a protoss glyph and then eventually a Diablo 2 rune. Then a circle with 3 rings. People then thought it was like a solar system with the then 3 blizzard universes. Then the near final image showed eyes glowing and and then a feint tusk. People thought at one point it was a hydralisk or something.
Then the day finally came and then the new incarnation of Diablo came into view with the Reveal trailer the day the WW:08 started. It was practically a mini Blizzcon really. I still remember the live stream was on a link that popped up the stream. The streams lag was pretty bad and it wasn't even widescreen.
Here's 2 videos of the reveal:
https://www.youtube.com/watch?v=OvAxEnNik8s
When the lag finally subsided then I could see the trailer. That day I started making wallpapers for the game.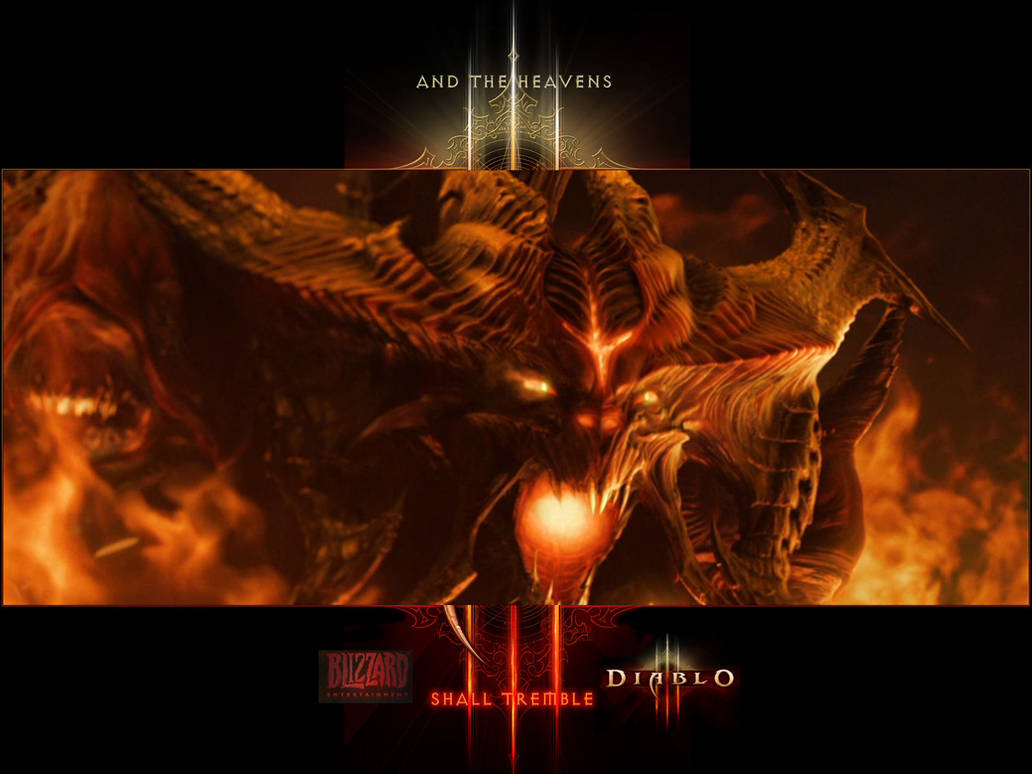 I posted it here and on diabloii.net (then called diii.net when d3 came about.) From there I decided to break outta my then comfort zone and started painting the diablo 2 runes larger and trying to give them a fiery feeling. At first I added them to my early profile art.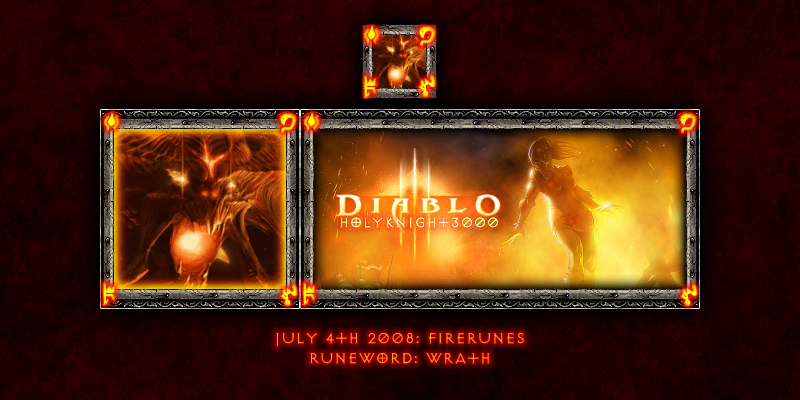 Then later I did the same to all 33 of them. Then used a fireworks 4 effect that allowed me to make a star with 33 points and made an evenly spaced rune circle that made the runes where they would be. Then I'd use the warp tool and made them lay at a nice angle then started putting the denizens of that world in the middle helping me make the Fiery Runes Series.
Over the years I'd make many wallpaper series. Sometimes with concept art, line art to give an old feeling like the Book of Cain would eventually give us.
Other times I'd remake D3 artwork that was in screenshots and like some of the Monks early runes and glyphs.
As well as the wallpapers that would come from them:
I was very proud of those. I tried to reproduce them so hard and then when the then computer I had; the hard drive would fail and I lost that artwork and would have to remake one of them again from scratch Hell here's the WIP i posted on diabloii.net.
I would also make my own fan art for Diablo as well. It may not be as good as others but I'm still proud of it.
Later I would make Calendars for each month that I could and also make them for that current year AND eventually for the EU. But at one point I started making uni-calendars that would have the month and the days but those days and months would neither have the years nor the weekdays on them so people could use them more than once. That way the wallpaper and calendar wouldn't become dated by the end of that month.
Then eventually in march Reaper of Souls would come out but for me unfortunately my biological father would pass on from this world as I posted the final wallpapers of the first part of the Acts 5 series.
That would also garner a change in the fiery runes into one of my favorite changes the runes would be called The Soulfyre runes, Still keeping the moniker of Fiery Runes. This time with a more "souly" look. That series became the largest one spanning 55 wallpapers.
In this series I experimented on many ideas as well as unique and fun things.
I also did tributes as well for people effected by bad events as well.
I also made my first ultra-wide wallpaper during my 7th anniversary during this series.

Later the Necromancer Pack would come out and Then I decided to end the Soulfyre series and start Essence based on the Necromancer's resource.
Then During Blizzcon 2018 the much spirited reveal of Diablo: Immortal a mobile diablo game that has spurned so much vitrol in the community I still tried to make wallpapers for the game and will continue after Diablofans fades away...
The latter days of Diablofans was a somber one as we say good bye to one of the few remaining pillars of the diablo community. We say goodbye and thank those who gave us a website to speak our minds and let us post fan art/fan fiction/ and Diablo Wallpaper/OS art. Thank you guys for this website and the community that was here. We'll find a new place eventually. Either in r/diablo or elsewhere. Thanks guys for a place I could post my wallpapers. Especially back when you guys had a small gallery at one point before that was removed.
Forever Thank You.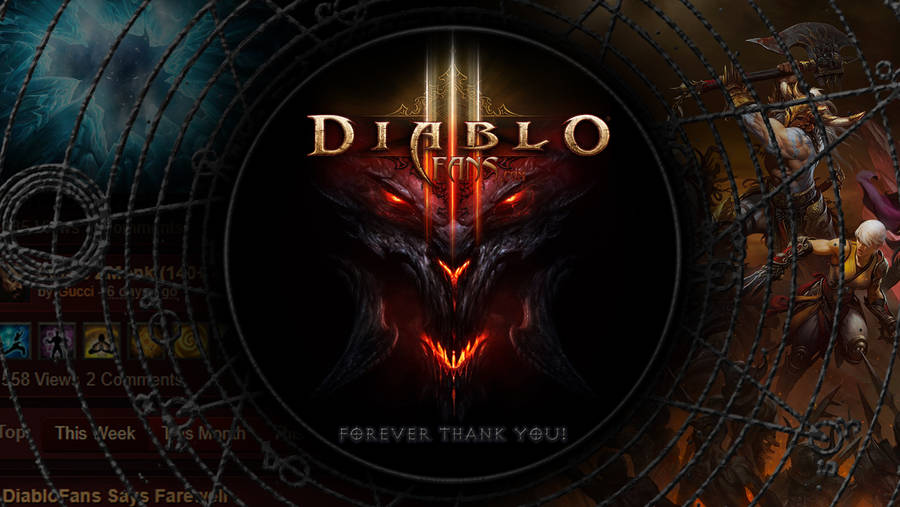 Aaron Williams (Holyknight3000 aka The Runeweaver)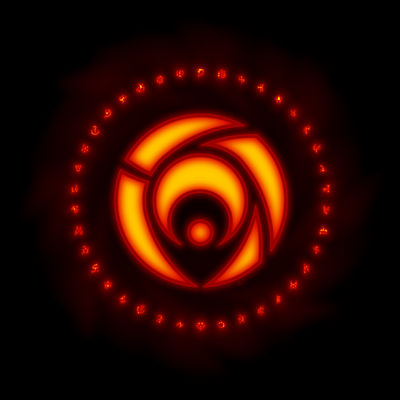 After this site goes you can find my works on:
deviantART: https://www.deviantart.com/holyknight3000
twitter: https://twitter.com/Holyknight3000
diabloii.net: https://www.diabloii.net/gallery/showgallery.php/cat/510
Galleries:
diablo.incgamers
-
deviantART
Social:
Twitter
@Holyknight3000
The Runeweaver